Today we are talking about how you can stay organized and save money by DIGITIZING your life! I'm knee deep in finishing up my SUPER exciting Budget Boot Camp program that is going to launch very soon! (Search #TheBudgetBootCamp on Instagram to see what the heck I'm talking about, and be sure to sign up for my email list to be the first to know when it's ready and to get exclusive pricing and discounts. Sign up using the box on the upper right of this site.) Because I'm working so hard on it, I enlisted the help of Barbara with Simplify Days: Life Digitally Organized, whom I admire. She is ULTRA organized and personifies the meaning of minimalistic, yet practical, living. I asked her to teach us how we can simplify our lives this time of year. Prepare for your mind to be blown! Take it away, Barbara!
__________
Thanks Jordan!
Have you ever tried to return an item that you don't have a receipt for?
Typically, if the store will still take the item back they will only exchange it and will just give credit for the lowest marked price that the item ever sold for. This can very frustrating when you know you paid more money for the item than they're willing to credit you for.
The solution: keep your receipts organized.
If you have a husband like mine who usually exchanges all of his Christmas gifts then you know how important it is to have a simple system for receipt management.
The life-saver: digitize your receipts.
It's so much easier than you'd ever think, and today I'll show you exactly how, step by step, by using nothing but your phone!
The Benefits
A quick and easy way to organize your receipts is to digitize them. Having digitally organized receipts will:
Create a cleaner space in your home and wallet by eliminating paper clutter
Save time by elimanating the need to look for receipts: easily find receipts with the ability to search by account/card, store, product(s) and/or purchase date
Save money by ensuring you get full credit for your purchases
Simplify returns for yourself by always having your receipts available when you need them
Simplify returns for others by easily texting or emailing them a copy of the receipt if needed
Make taxes easier if you have any deductions
The System
A wonderful and free solution for digital receipt management is using an application called Evernote. This is not sponsored, it's just an amazing free application you can download on your phone and computer. Evernote is available on all major platforms, just search for it in the app store.
When you launch the app it will ask you if you'd like to create a new account or sign into an existing one. If you're new to Evernote set up a new account with your desired email and password. Once you're signed in you will be brought to the main screen which looks like this.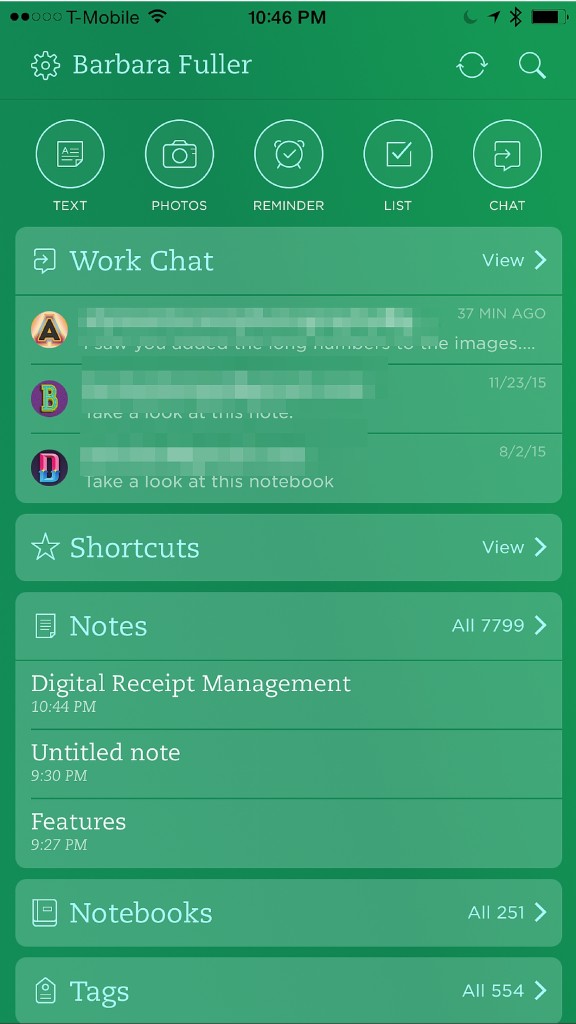 There are two main organization features of Evernote: Notebooks + Notes.
Evernote Notebooks + Notes
Notebooks & Notes are a new way to think about storing information. Although it works a bit differently, the best thing to compare notebooks to is just a regular folder on your computer. The best thing to compare notes to is just a regular file on your computer, like a pages or word processing document. In Evernote, notes are kept in specific notebooks, just like documents are kept in folders on your desktop. For Evernote, you simply create a new notebook, specify the title and then start adding notes in that notebook.
Create Your First Notebook
To get started with digitally organized receipts lets create a notebook to house the information. Select Notebooks in the main menu.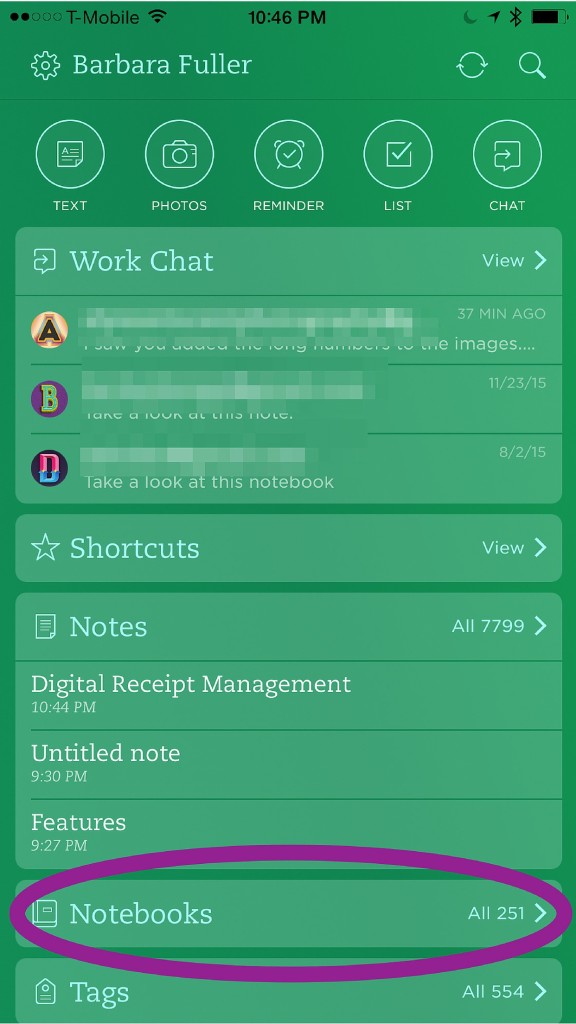 Then on the top of your screen select +New Notebook. This will be the notebook you'll use to store your receipts. Choose a title that makes sense to you, Finances or AMEX Personal are potential options. When your title is entered, hit Done.
Create Your First Note
Now we'll create a single note within the notebook to store an individual receipt. Select the + icon at the bottom of your screen.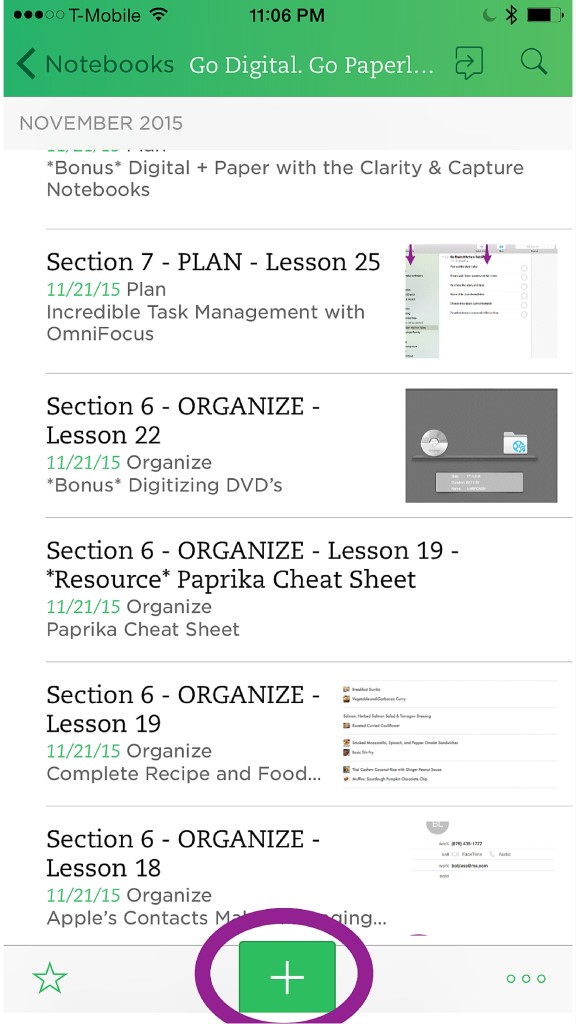 That will bring up three options. Select photo.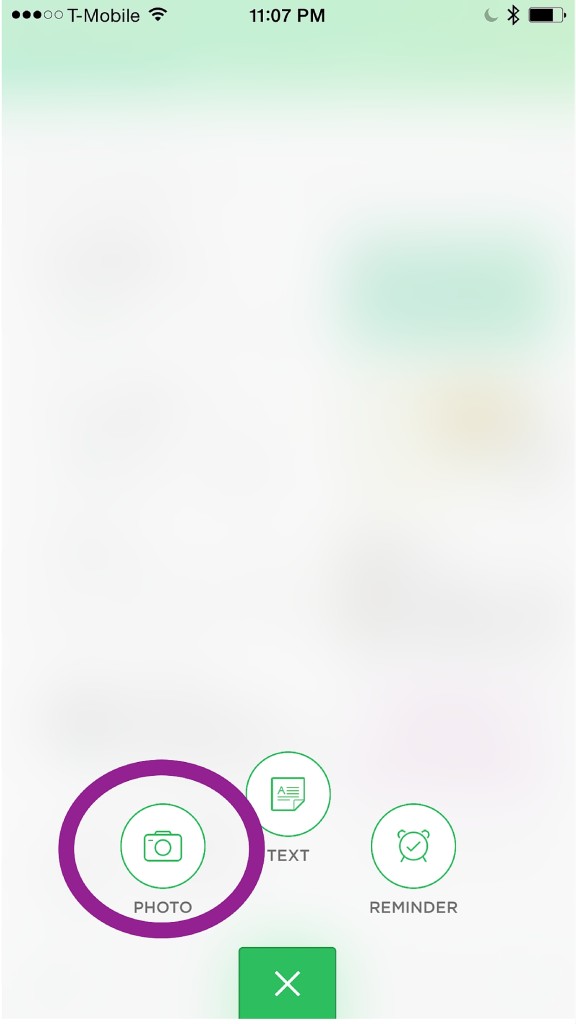 Make sure auto-mode is turned on by touching on the icon in the top right corner.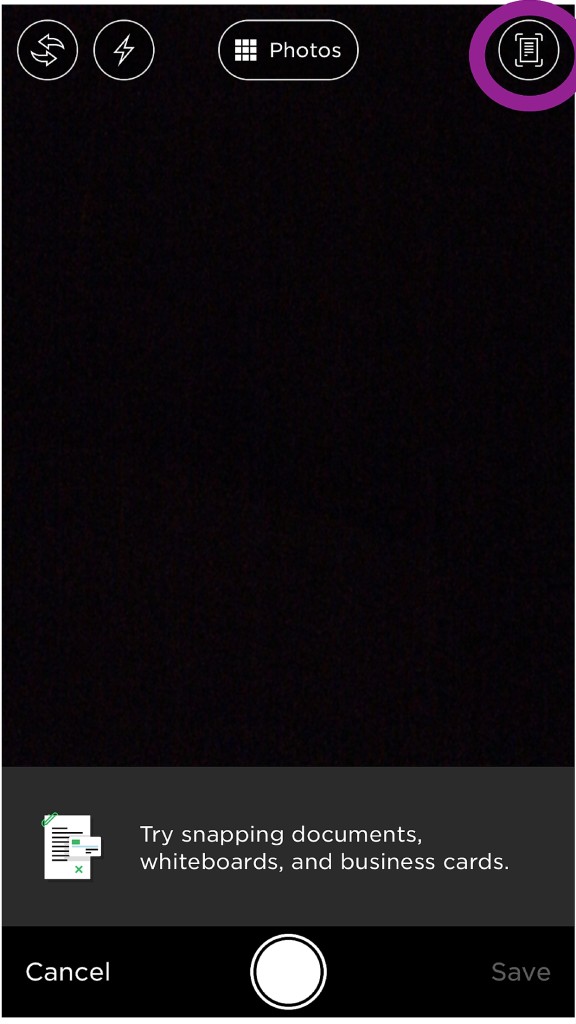 Focus in on your receipt. Here is a receipt I have from Costco. You will see Evernote automatically framing in your receipt. When things are focused and aligned take the picture. If the receipt is too long to fit in one frame capture the remaining portion of the receipt with another image. Once you have everything captured, hit Save.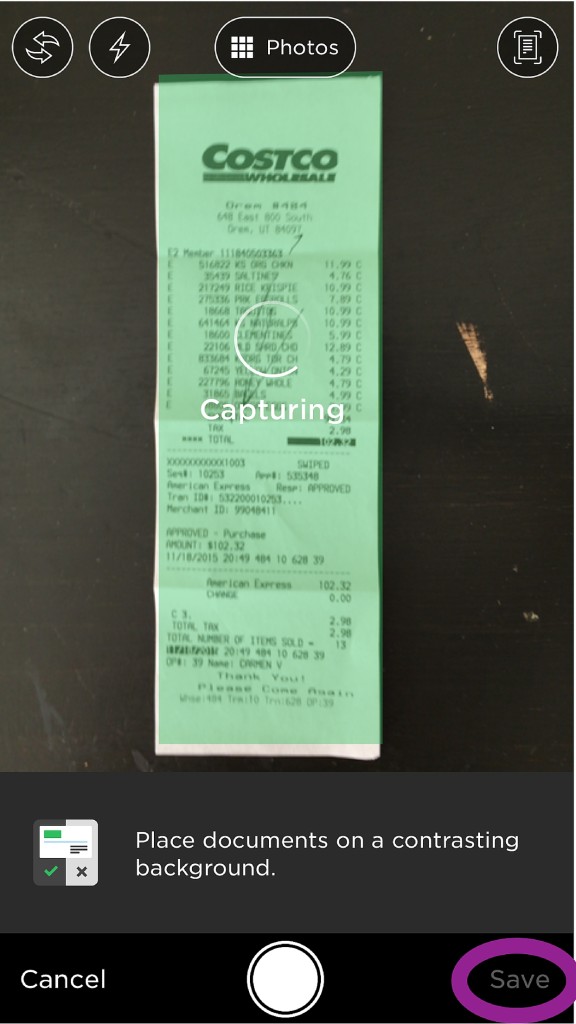 That will open a new note and the image(s) of your receipt will appear in the note's contents.
Titling & Organizing the Notes
You can now assign any title that you'd like to the note by selecting the note and editing the information at the very top. I use the following outline to title my receipt notes:
Year-Mo – Purchase Location
For the receipt I showed scanning above I would title the note:
I use this titling structure because, when notes are sorted by title, all of my receipts will be organized chronologically by year and then by month. It makes it really easy to find and reference receipts.
Voila! Your receipt is now digital and organized in a wonderful and simple system.
Viewing & Searching Receipts
Within your notebook you can choose how to view your notes. They can be organized by titie, date updated or date created. To select a viewing option select the icon in the bottom right corner.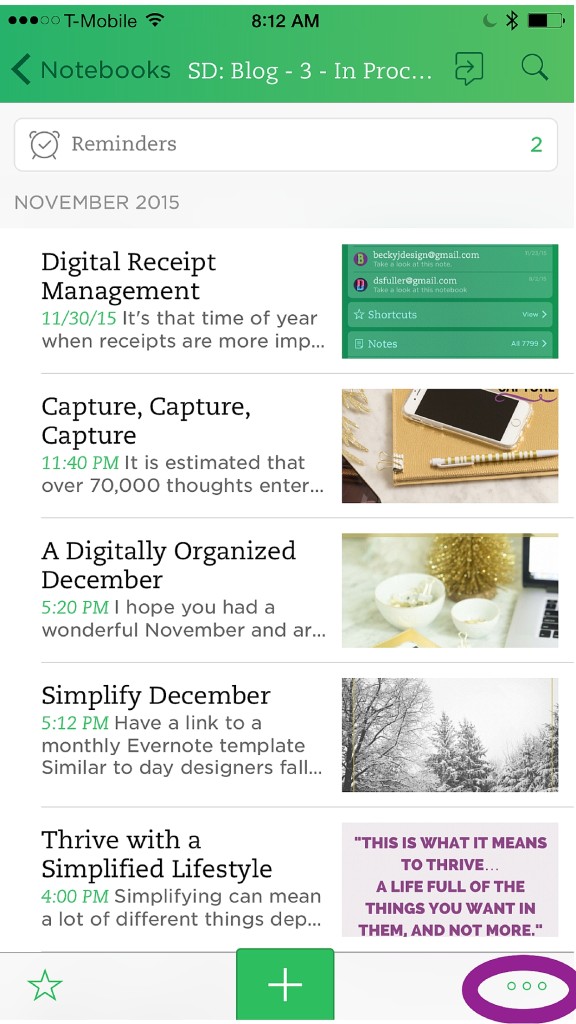 Then select your viewing option.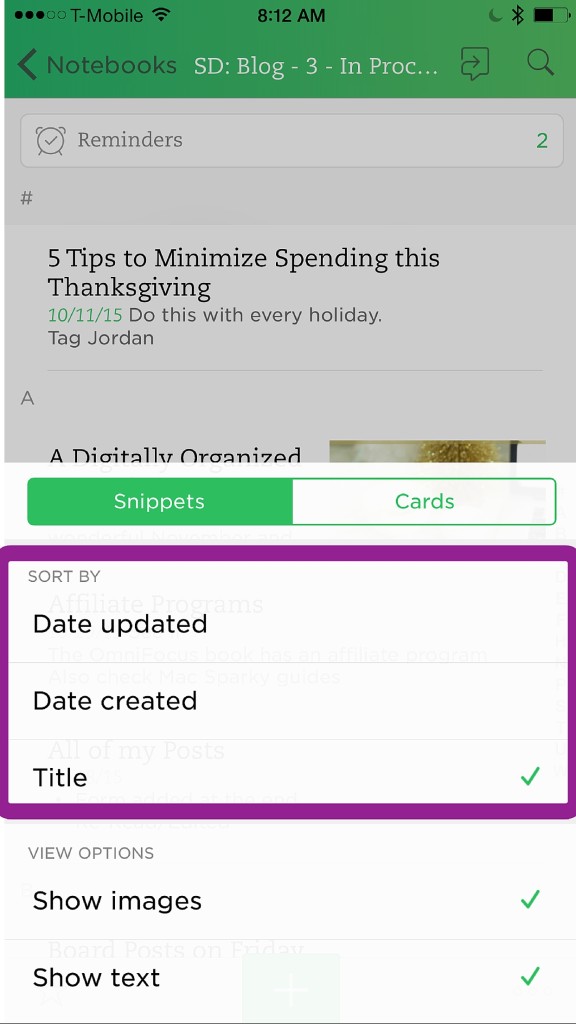 You can also use Evernote's amazing search function to find receipts. Select the magnifying glass in the top right corner to preform a search. Evernote will search the title and the text in the actual receipt.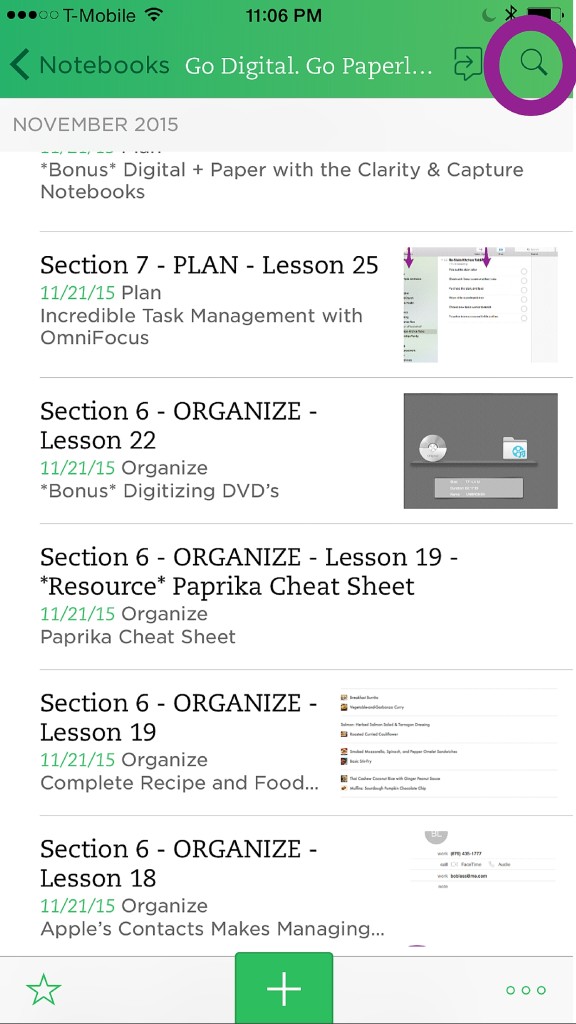 Returns & Exchanges
I have been using this organization method for years and have never had a problem returning with a receipt scanned into my phone; however, I can't promise that all stores will be okay with this method. If you're concerned, just called the store and ask them.
Online Purchases
Use this same organization system for receipts that are already digital. When you purchase something online, take a screen shot (see how to do that here) and then file that image away in the notebook for that card/account and title it using the same methods.
Note: Offline Notebooks
Evernote is a cloud based service which means that information is seamlessly synced between all of the devices where you have the Evernote app installed. (See a tutorial for using Evernote on your desktop/laptop here). The information is stored locally on your computer which means you can access the information even if you're not online. On mobile devices however, information can only be accessed if you are online. With a premium account, you can set up offline notebooks to have access to the information all of the time. If you're using the free account just take into account that you'll need to be online to pull up the receipt in the store. If you know that you won't have internet in a store then just save the image of your receipt directly to your phone before going to the store.
AND THERE YOU HAVE IT!
It may seem like many steps, but it really only takes a few moments and will simplify and organize your life more than you can imagine. I hope you enjoyed and I hope this helps you this season!
_____
Thanks Barbara! So inspired, and can't wait to try! Hope you all enjoy staying organized this year.