Welcome back to Foodie Tuesday! Today I'll be sharing with you some of the yummy recipes I used for the baby shower I threw 2 weeks ago. These recipes are beautiful, easy, and PERFECT for parties and showers!
You won't be disappointed 🙂
Fruit Salsa with Baked Cinnamon Chips
(Original recipe found
HERE
)
2 kiwis, peeled and diced
2 Golden Delicious apples – peeled, cored and diced
8 ounces raspberries
1 (16 oz) carton of strawberries, diced
2 tablespoons white sugar (more or less to taste)
1 tablespoon brown sugar (more or less to taste)
3 tablespoons fruit preserves, any flavor (I used strawberry)
10 (10 inch) flour tortillas
melted butter or butter flavored cooking spray
2 cups cinnamon sugar
1. In a large bowl, thoroughly mix kiwis, apples, raspberries, strawberries, white sugar, brown sugar and fruit preserves. Cover and chill in the refrigerator at least 15 minutes.
2.Preheat oven to 350 degrees.
3.Coat one side of each flour tortilla with melted butter or butter flavored cooking spray. Sprinkle tortillas with desired amount of cinnamon sugar. Cut into wedges and arrange in a single layer on a large baking sheet. Spray again with cooking spray (not necessary if using melted butter).
4.Bake in the preheated oven 8 to 10 minutes. Repeat with any remaining tortilla wedges. Allow to cool approximately 15 minutes. Serve with chilled fruit mixture. Best when made and eaten the same day otherwise the fruit gives off so too much juice and it gets runny.
**Note: I didn't use any fruit preserves, I didn't have any. It was still delish, though! I also diced up the raspberries so they were small just like the other fruit. Soooo good! I left the bowl of extra cinnamon sugar near the fruit so people could sprinkle extra on top if they wanted. MMMMMmmmm!!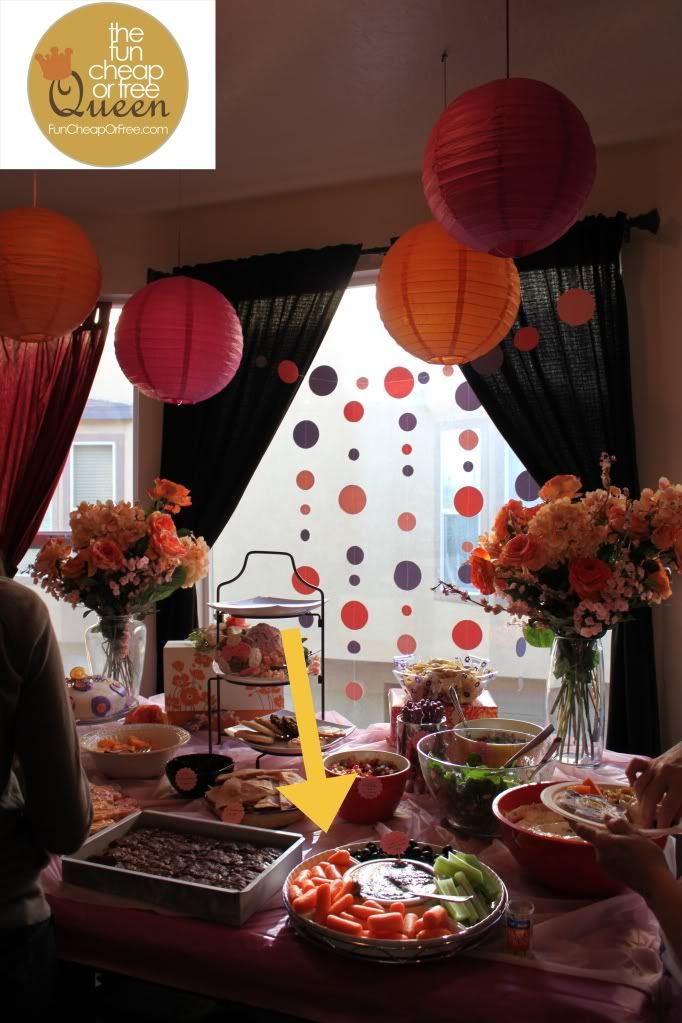 (Shown at the bottom of this pic, sorry I didn't take a close-up!)
15oz canned black beans, rinsed and drained
1C cilantro, diced (plus a little extra for garnish)
1/2C salsa
1/2C plain fat-free yogurt
1t ground cumin
1/4t salt
Put all ingredients in a food processor or blender. Blend until desired consistency. Spoon into a serving bowl, garnish with cilantro (optional), serve with veggies and/or chips! So easy, so good! Will stay fresh for up to one day in the fridge.
Enjoy this quick and easy crowd-pleasers!
Remember to price-match your fruit so you get the best possible deal. Enjoy 🙂