During a recent
price-match trip
to Walmart I picked up some butternut squash for a great deal. I had no idea what to do with it, so I went to my favorite resource, allrecipes.com. I found this incredible recipe, made a few changes of my own, and voila!
Best.
Recipe.
Ever.
I can't get enough of this soup. I made it for my inlaws during our Thanksgiving break in Arizona, they all went nuts over it.
Even my picky husband loved it…
…and that's saying a lot.
I've been wanting to post this recipe for you all for some time now, sorry I haven't yet.
Trust me, you've really been missing out.
So without further adieu, I present to you:
World's Best Butternut Squash Soup
(Adapted from
THIS
recipe)
Printable version of this recipe HERE
Ingredients:
6 Tablespoons chopped onion
4 Tablespoons butter
6C cooked butternut squash – cooking instructions below (about 2 squashes)
3C water
4 cubes (or 4 Tablespoons) chicken bouillon
½ teaspoon dried marjoram
Black pepper to taste
¼ teaspoon cayenne pepper (don't skimp, this is the secret ingredient! So delish!)
1 8oz package cream cheese
Oregano to taste (about 1 teaspoon)

Directions:
1. Cut the butternut squash in half. Scoop out the seeds and "guts". Place, cut-side down, on a cooking sheet sprayed with cooking spray. Roast in the oven at 375 degrees for 45 minutes until really soft.
You could also place cut-side down on a plate and microwave 8-10 minutes or until really soft, but I haven't tried it this way.


2. Meanwhile, cook onion in butter until soft.

3. Scoop out the cooked squash and put it in a blender along with the cooked onion and all other ingredients. Blend until smooth and well mixed.

4. Return to saucepan and heat through, but don't allow it to boil. Add more seasonings to taste if desired, but keep in mind the flavors intensify the longer it sits. Serve in a bread bowl or with crusty bread. Enjoy!
Printable version of this recipe HERE
That's it! So easy. Seriously, you will die. The best part about this recipe is it tastes even BETTER as leftovers, believe it or not. The longer the flavors sit, the better it tastes. And really, don't skip the cayenne! It's what really makes the soup taste incredible. It doesn't make it spicy, it just gives it a little *pop*. Everyone went nuts over it, and I'm sure you will too!
In fact…I'm drooling a little right now just thinking about it…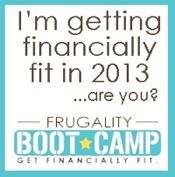 Oh! And while I'm at it, have you registered for this year's Frugality Boot Camp?
Better hurry, only a few days left to get your discounted tickets! See info about it HERE or click the widget below:
(Visited 3,045 times, 1 visits today)